How Can Laser Gum Contouring Improve My Smile?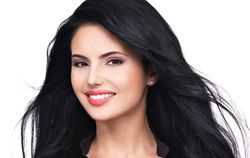 Laser gum contouring is becoming more popular among patients who have an uneven gum line or gummy smile. The procedure allows dentists to reshape the gum line to produce a more pleasing aesthetic. As an experienced dentist, Dr. Clark Damon is performing an increasing number of laser gum contouring treatments on Fort Worth patients. The use of laser technology has made it easier to contour gum tissue with reduced risks and fewer side effects. In this blog post, Dr. Damon explains how laser gum contouring can be performed to improve the appearance of the smile.
The Laser Gum Contouring Procedure
The laser gum contouring procedure involves the removal of a small amount of soft gum tissue to produce a uniform gum line or minimize the amount of gum tissue that shows when a patient smiles. To start the procedure, Dr. Damon will administer a local anesthetic to numb the gum tissue and prevent any discomfort during the treatment process. Once the numbing solution has taken effect, Dr. Damon will use a dental laser to sculpt the gum line and create an attractive contour; this may involve the removal of gum tissue across the entire upper gum line, or the removal of excess gum tissue from specific teeth. The entire process takes less than an hour. Once the gums have been reshaped to the desired aesthetic, the patient can return home.
Laser Gum Contouring Recovery
The laser gum contouring procedure results in minimal side effects. Still, patients may experience minor discomfort during the healing period. To reduce any pain, patients should avoid spicy foods, foods and drinks that are heated or cooled to extreme temperatures, and foods that contain small seeds. An over-the-counter pain reliever can be used to treat any discomfort.
Patients should continue to brush and floss their teeth in the days after treatment. However, during the first few days after treatment, it is important to be as gentle as possible.
Laser Dentistry Benefits
Laser dentistry offers many benefits to patients, including a reduced recovery time and fewer side effects. The advantages of the laser gum contouring procedure include:
Less pain during and after treatment
Reduced degree of bleeding and swelling
Less chance of infection
The laser cauterizes (seals off) the gum tissues and blood vessels as it cuts, so no sutures are needed
Improved and even gum line
The gum line is more proportionate to the teeth
The ideal amount of gum tissue shows when patients smile, laugh, or speak
The laser gum contouring procedure is commonly performed in combination with other dental procedures. Porcelain veneers may be applied to the front surface of the teeth to make them appear straighter, lengthen short teeth, or mask stains. Teeth whitening may be performed to make the teeth whiter. By choosing additional treatments, patients can achieve a total smile makeover.
To schedule a laser gum contouring procedure, contact Dr. Clark Damon at Texas Denture Clinic. Dr. Damon can determine if you are a good candidate for treatment, and advise you on other procedures that improve the appearance of your smile.
Related to This