Same-Day Broken Denture Repair: Fixing Your Smile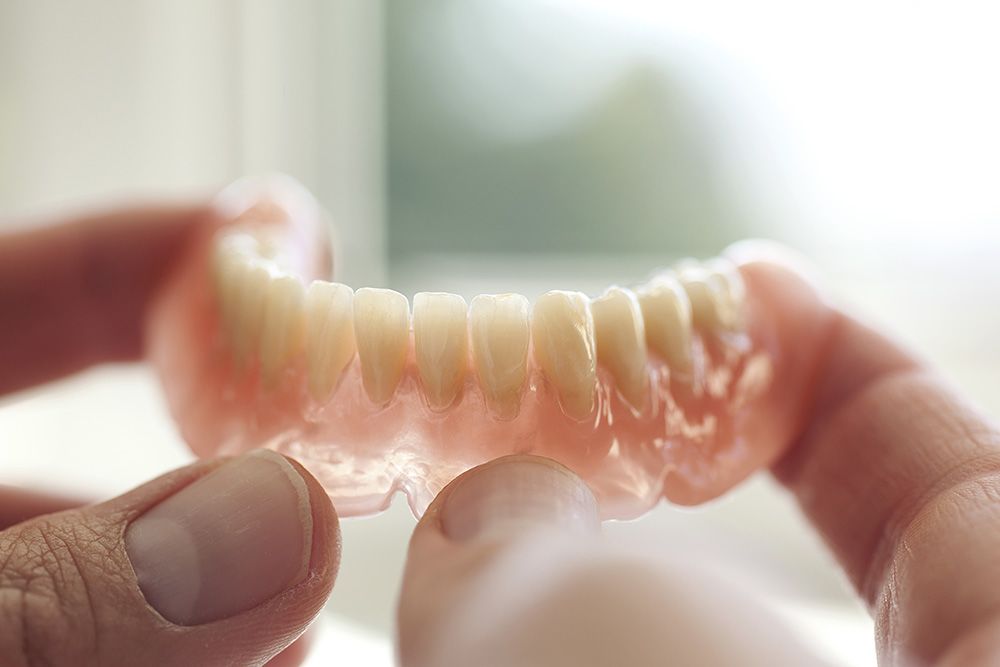 When a denture breaks, patients should have it fixed before trying to wear the denture again. It can take time to fix a denture, but there are times when a denture can be professionally fixed in the same day. In certain circumstances, our Fort Worth, TX practice can do same-day denture repair.
Let's take a moment to consider the basics of same-day denture repair and when professional care is necessary. As you're about to find out, sometimes a damaged denture can be fixed at home.
Do-It-Yourself vs. Going to a Dentist
When you do experience a problem with a denture, it's first important to determine if you can fix the problem yourself rather than going to your dentist.
If just a tooth has broken off from the denture, you can fix the problem yourself using an over-the-counter denture repair kit. These can help bind the denture together before undergoing a full denture repair from your dentist/a dental lab.
If the acrylic portion of the denture has broken off, the denture has broken in half, or metal wiring on a partial denture is damaged, professional denture repair is the ideal option to consider.
Dealing with a Cracked Denture
When a denture is cracked in half, it cannot possibly be mended using a DIY kit you can purchase at the store. Similar caution must be taken if there is a substantial crack in the denture but it is not broken in half.
Dentures need to be properly fit to the patient's mouth, and must be able to tolerate normal wear and tear. Wearing a cracked denture can lead to further damage to the appliance, and it could wind up harming your gums and dental arches.
Denture Repair vs. Replacement
When it comes to major damage to a denture, it's also important to consider if a repair is necessary or if the denture simply needs to be replaced. This is something that you dentist will be able to determine during the consultation process. Be sure to bring any and all fragments of the denture to your dentist.
Noting the damage, we can determine if the denture can be repaired and if those repairs will be stable. Remember, that denture has to go back in your mouth and withstand the normal pressure exerted when biting and chewing. If the damage to the denture is too severe, replacing the broken denture will be the most sensible options.
The Results of Same-Day Denture Repair
Professional same-day denture repair uses modern adhesives and on-site technology to mend the broken appliance. These techniques are far more effective that at-home repair kits. Additionally, dentists are trained to note the proper fit of a denture in the patient's mouth and how to ensure long-term stability of the fixed appliance.
Back to Normal in Just a Little Bit of Time
Same-day denture repair has a number of obvious advantages over other options for fixing a denture. Patients are able to have a fully functioning set of teeth again, allowing them to bite, chew, and smile with total confidence. There's no need to wait for an off-site dental lab to mend the damage, and little interruption in your daily routine.
Learn More About Denture Repair
If you have a broken denture and would like it to be repaired in a timely fashion, be sure to contact the Texas Denture Clinic and Implant Center. We look forward to your visit and discussing these matters with you in greater detail.
Related to This