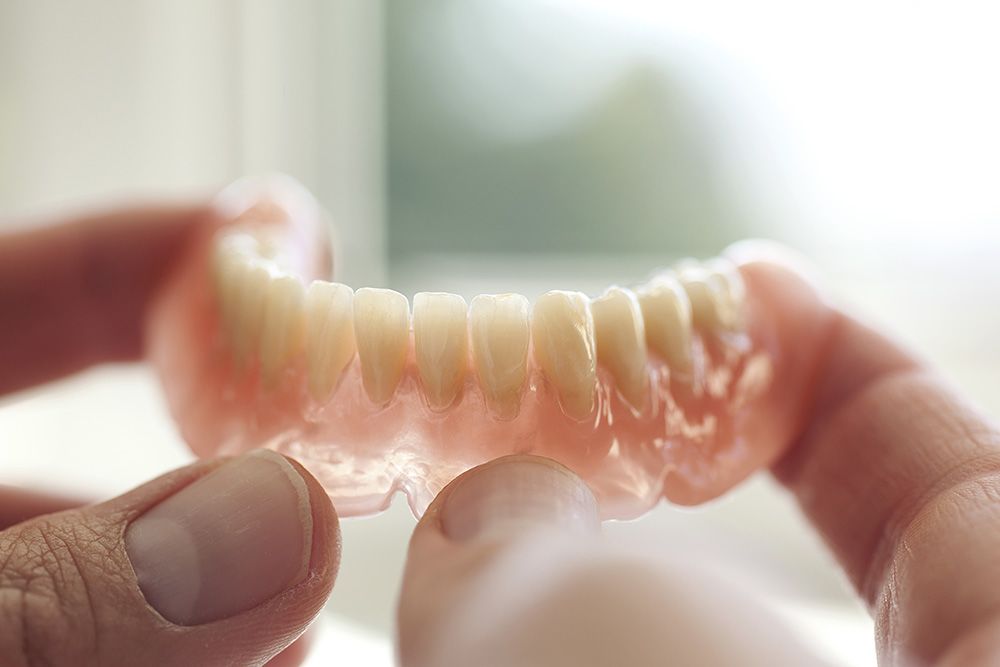 If you have multiple missing teeth, you are probably wearing dentures. Dentures are an excellent treatment option for patients that are missing all or most of the teeth. However, some dentures do not fit properly or they look unnatural. In these cases, patients may need to have their dentures repaired or they may need new dentures altogether.
At Texas Denture Clinic and Implant Center, Dr. Clark Damon and Dr. Kari Blankenship offer many types of dentures, including immediate dentures and Valplast partial dentures, to replace your current dentures. Here, we take a look at six signs that indicate you need new dentures. To schedule a dentures consultation at one of our Fort Worth, TX area offices, contact us today.
1. Loose Fit
One of the most common complaints among patients that wear dentures is a loose fit. This can result in the dentures slipping or sliding in the mouth. It can make oral functions difficult. In many cases, patients choose to not wear their dentures at all.
Removable dentures are more likely to become loose as opposed to implant-supported dentures. If you prefer removable dentures, we can replace older models with new dentures that use modern materials to fit more securely and comfortably within the mouth.
2. Difficulty When Trying to Speak or Eat
When dentures are loose, it can make it difficult to eat or speak. The prosthesis may slide out of place at inopportune times, such as when talking to a group of people or when eating out with friends or family. This can become so frustrating for patients that they begin to avoid social interactions.
We can replace your old dentures with a custom restoration that is stable within the mouth. Removable dentures stay in place through a combination of a good fit, suction, and the use of advanced materials. We also offer implant-supported dentures, which are secured to dental implants that are embedded in the jaw.
3. Unnatural Appearance
If you have older dentures or the size and shape of the teeth in your dentures contribute to an unnatural appearance, you may feel self-conscious when wearing the prosthetic.
At Texas Denture Clinic and Implant Center, our in-house lab crafts an average of 10 denture prosthetics a week. We will design dentures that will look natural, and we can make cosmetic and fit adjustments to your dentures as they are being made.
4. Gum Inflammation and Pain
If dentures do not fit well over the alveolar ridge, the gums can become inflamed, tender, and red. In severe cases, the gums may even begin to bleed as a result of ill-fitting dentures. These uncomfortable symptoms can cause patients to stop wearing their dentures.
5. Unexplained Face and Neck Pain
Some patients experience unexplained pain in the cheeks, jaw, ears, head, and neck. Ill-fitting dentures can result in this pain when an imbalance is causing too much pressure to be placed on certain areas of the jaw.
6. Discoloration or Chipping of the Artificial Teeth
Over time, the prosthetic teeth can become discolored, chipped, or cracked. This process is accelerated if patients expose their dentures to stain-causing food and drinks, cigarette smoke, or other damaging agents. If you have older dentures that have become yellowed or aged, you may need a replacement appliance.
To get dentures at our practice, contact Texas Denture Clinic and Implant Center today.