Dentures
Missing most of your teeth can make eating and speaking a challenge. It can also affect your self-confidence.
At Texas Denture Clinic and Implant Center, we provide both traditional and implant-supported dentures to fully restore your smile.
So why should you choose dentures?
Restore Confidence
Comfort, and Health
Take Years off Your Appearance
At Texas Denture Clinic and Implant Center, we can customize your dentures to suit the shape of your face and improve the appearance of puckered lips and sunken cheeks.
Enhance Your Quality of Life
Dentures can restore your ability to speak clearly, eat comfortably, and smile with confidence. A properly functioning smile just makes life more enjoyable.
Benefit from Dental Implants
Our doctors can attach dentures to dental implants, which are small titanium posts that act as artificial tooth roots. With implants, your dentures will never shift out of place.
If You Need Dentures,
You Are Not Alone
We Make Dentures
a Fit for Your Budget
Traditional removable dentures are the most affordable treatment option for replacing several consecutive teeth. At Texas Denture Clinic and Implant Center, complete dentures start at about $850 per arch and provide the same quality as dentures that cost thousands of dollars at other clinics. Also, dentures are often covered partly or completely by insurance, reducing your out-of-pocket costs.
Implant-supported dentures are more expensive than other treatments. However, most of our patients find that the benefits of dental implants are worth the additional expense.
We Use Advanced Technology
to Make Your Treatments More Precise
At Texas Denture Clinic and Implant Center, we employ a variety of state-of-the-art tools and techniques to provide superior results. Our doctors can use a digital CT scanner (ICAT) to create three-dimensional models of your jaw while planning your treatment. This tool is invaluable in making certain your implants are placed in the best possible positions.
Treatment Timelines Are Different
for Traditional and Implant-Supported Dentures
For implant-supported dentures, you will need to undergo an implant placement procedure and wait for three to six months before you can receive your permanent denture.
For Traditional Removable Dentures:
We make our dentures in the traditional way, which involves wax rims and try-ins for the best possible fit.
Functional, Natural-Looking Results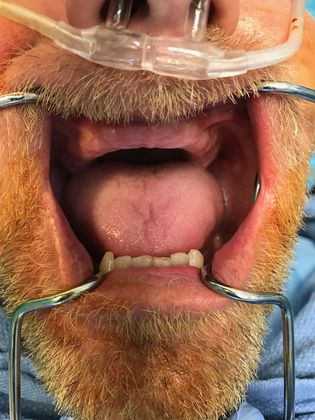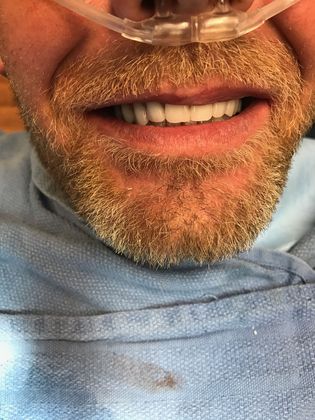 Cost of Dentures:
Budgeting for a Restored Bite
At Texas Denture Clinic and Implant Center, we pride ourselves on providing personalized care and fully customized dentures that can restore your bite and your confidence in your smile. Each patient's dentures and restorative treatment plan is unique, meaning cost varies on a case-by-case basis. Some patients might need a simple replacement, some may need teeth removed, and some may need dental implants. Our Complete Dentures start at around $895 per arch, and are comparable in quality to dentures that cost several thousand dollars at other practices. Our Immediate Dentures start at 895 an arch, and they do not include extractions or other items needed. Dr. Clark Damon, Dr. Jordan Dupree, and Dr. MJ Secola can help you understand your options and the cost of dentures when you visit one of our offices in Dallas or Fort Worth. Please note, we do have an In House Lab, where we can fabricate your prosthesis fairly quickly, but we make them the traditional way which requires 4 steps - Impressions, Wax Rims, Wax Try in, and Delivery. This assures you get the best product and you get to approve the wax set up. You are in-control of the process. We offer outstanding dentures, and will work with you to place the cost of your dentures comfortably within your budget.
Other options available:
Since many patients inquiring about dentures are looking at getting into the prosthesis for the first time, they most likely will need some tooth extractions to get Dentures. This is called an Immediate Denture. With all of our immediate dentures, we include 3 sets of soft liners which is worn by the patient from after surgery to about 4-6 months while the bone and gums are healing from surgery. This way you have a good fit during the healing process. There are many other offices out there that do not do this, and soft liners are a very important step in having a denture that fits adequately during the healing process.
We also offer sedation since patients might be needing surgery. This is to get you comfortable and to sleep during the procedure. Many patients have anxiety about having the teeth removed for dentures, and the IV Sedation is the best way to make it a great experience.
We do offer upgraded teeth, and upgraded denture acrylic. Upgraded teeth have more life like characteristics, they have less wear over time and so you have a good chewing surface for longer. Upgraded denture acrylic is stronger as well. However, our regular non-upgraded dentures are high quality and look and perform very well.
We also offer Cast Metal Partials, Valplast Partials, Snap on Implant Dentures, and All on Four Permanent Dentures.
Paying for Dentures
Outside from dental insurance and paying cash, check, or credit card we offer financing options - Care Credit, Lending Club, and Wells Fargo Health Advantage. You can apply in our office and we can help walk you though the application process.
Immediate Dentures
Receive Your Dentures at the Time of Tooth Extraction
Learn More
about Our Denture Service
Do you have an existing denture that is loose or tired of having a removable denture? At Texas Denture Clinic and Implant Center, we understand the importance of a beautiful smile and a strong, healthy bite. We offer dental implants to stabilize a loose lower denture.
For 20 years, the Texas Denture Clinic and Implant Center has focused being the "Go to" Location for Dentures in Fort Worth. This is the bread and butter of our practice. We offer Immediate Dentures, Complete (Traditional) Dentures, and Partial Dentures. Now with our second office in Dallas, we are offering the same great dentures in Dallas.
We offer Same DAY - denture repair and reline services. Because patients depend on their dentures each and every day, we know the importance of a fast turnaround. Our practice features an on-site fabrication laboratory, allowing us to offer same-day repairs.
Broken Dentures
Dentures don't just break Monday- Friday, they can often break at the worst possible time - say just before a wedding, just before a big meeting, or your sons' graduation.